Today's post is about changes. How one little detail can greatly affect an outcome.
Remember this?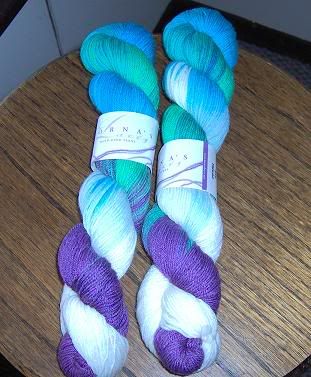 It was becoming this:
I got to the heel, and decided that I didn't like it. It wasn't fun at all. Okay, so I've only done one cuff down sock, but every part of it was fun. I liked doing the heel flap, picking up the stitches, grafting the toe. I wanted to try toe-up to see what all the fuss is about. The best part of that sock was the endless stockinette, which usually I don't enjoy. The toe and the heel was a pain in my arse. So I decided I would rip it out, reskein and wash the yarn, and start over, cuff down.
I reskeined the yarn, I immerged it in water.. and.. whaddoya know, the water is blue. Personally, I think that if I can dye wool and the dye not run when I wash it, Lorna's Laces should be able to do the same thing. Anyhow, I decided to throw it in a near-boiling pan of vinegar and water. Except, when I did that, I wondered.. what would it look like if I.. threw in some more dye? Maybe some red, and some brown, and some burgundy, and even some vert green? It looks like this:
Dublin Bay Socks (pdf)
. The gauge is right, the colors much more "me", and the lace insert is simple enough that it can be my on-the-go project, but it still requires enough attention that it keeps the sock from feeling like endless stockinette. There are bits of the original color where I tied the skein up with cotton when dyeing, giving it an almost built-in tweed effect. In short, I really like where this is going.
Now, remember this yarn?
That was a random bulky, peachy single. Last week sometime I started spinning a yarn for a multi-directional scarf for charity, with lengths of yellow, red, and orange to give it a self-striping effect. I got bored with the yarn fairly soon, because the colors aren't really my style, and eventually the project didn't seem like such a great idea. Last night, around midnight, I was unable to sleep, and just briefly wondered what the two yarns would look like plyed together. I've never plyed before, except Andean plying which is quite different, and at midnight I didn't really feel like pulling out the books or researching it online, so I just grabbed the yarns and did whatever felt right. The result isn't perfect, but it's bouncy and bulky and fun.
I'll probably start a garter stitch scarf for my "on the computer desk" project for the same charity organization.
Now the non-knitting changes:
For awhile, I've been an assistant manager at a videogame store. I don't generally like the store. I love all three of the CSRs, but I generally dislike the customers, and I'm not overly fond of the manager. I've been going crazy trying to figure out how I can get out of there, still pay my bills, and move a bit forward. One night in the past couple of weeks, I went out shopping with my husband, a guy friend who works with me, and hubby's sister. The guy friend hates the job and the manager as well, so it was generally a big bitch-fest. And I was PMSing. Not pretty. So, when we get back, friend and hubby's sister leaves, and hubby and I have a long talk about what I should do. I knew the local community college didn't really offer any degrees I was interested in (the medical field is not my thing), but I glanced at the website once more just in case. And then I started wondering "What are those RODP classes I keep seeing on the website?" Reagents Online Degree Program. Basically, I can take classes online or at the college, and can earn an Associates of Applied Science in Professional Studies with a Concentration in Informational Technology. A long way to say that I can learn programming and such. I already have some of the basic classes, as I was exempt from a few due to my ACT score, and have taken a few during one of my "I have no idea why I'm taking classes, but dangit, I'm takin' em anyway" phases. Yes, it's just an associates degree. No, it's not the key to big money. I don't need big money. I need to get away from retail. Period. I don't know where it will lead, but I told my boss on Friday to demote me to CSR, cause I was working on getting the fuck outta there.