Thanks for your motivational comments, Ragnar. I knew I could count on you ;)
So I feel better, for the most part. The only problem I have left is these stupid persistent coughing fits which occasionally lead to vomiting. No big deal, right? I had a nice steak dinner last night to celebrate being able to taste again. It came back up. Yeah, fun stuff.
So, I've not gotten any spinning done, and the only knitting I've gotten done is a swatch from yarn that I spun from that colorful roving that I posted a photo of a few entries ago. Now, replace the word 'colorful' with the word 'hideous.' I'm sure all of you know that merino is harder to spin than Blue Face Leicester, and you were wondering when I'd figure that out. Well, I figured it out. Short staple length and all that. Yeah, so I've got this uneven, slubby, overtwisty yarn.. in absolutely horrid colors. Makes for a pretty ugly swatch.
So this:
is now this: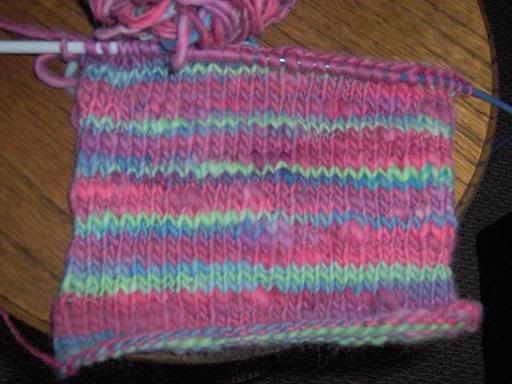 Yeah. I'm waiting patiently for my BFL to arrive.