So I've been playing with my Wilton's Cake Dyes over the weekend. It's a lot less of a "pull my hair out" / "dye the kitchen" situation than with Kool-Aid. Basically, I throw some water, vinegar, and dye into a pot then lower the temperature and stick some wool in there when it hits boiling, wash, rinse, and see what color came out. It's crazy that one color of dye produces multicolor wool.
This is Juniper green.. a heaping 1/8th of a teaspoon of dye. I call it Thinmints. I'm trying to get over the fact that I wanted a foresty, natural green and I ended up with girlscout cookies.
This is Creamy Peach.. a heaping 1/8th of a teaspoon. Hubby and friend says it looks peach. I think it's orange. Whatever.
This is Cornflower Blue.. about 1/16th of a teaspoon. Just in time for spring.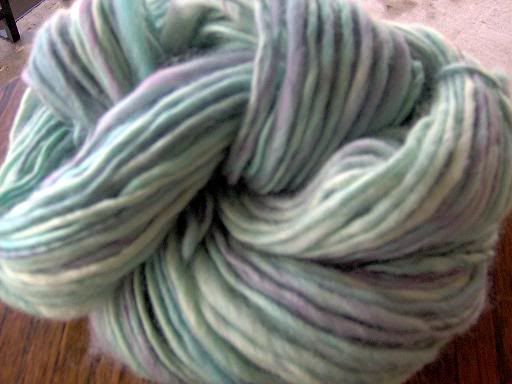 I've got 3 more lengths of wool that have been dyed, and more left to dye.. so lots of spinning ahead.
And, Ragnar, since you mentioned it, I'll unveil it. My
etsy shop.
I've sold a couple of yarns, and traded some for soap. Huzzah! It's mostly a way to let myself experiment with colors and not getting stuck with yarn I don't like. I've got 22 colors of the Wilton's, and I know I won't like all of it. Somehow I ended up with 3 friggin' shades of yellow. And I'm looking for the perfect color for Clapotis.