I tried Navajo plying for the first time last night. Well, for the first time with -real- yarn. There was an episode where I practiced with Lion Brand Fisherman's Wool. I plyed a just finished single of pinks and plums. It was already a pretty thick single, so this stuff is crazy bulky. 11 stitches over 4 inches on US size 11 needles, to be exact. I fell in love with the yarn immediately after plying it. Yarn that I wasn't too crazy about before. It was bouncy, and full of life. So I said "screw setting the twist" and made a gauge swatch that I ripped out before casting on for a hat. I knew fully well that I would never wear a bright pink hat. I thought I could give it to my cousin. Or just.. sit it around and admire it. No such luck. I thought 45 yards would be enough with it being
this
thick. No. I ran out of yarn right when it was time to start the decreases. I frowned at it a while, hoping it would grow, then sighed, frogged it, and reskeined it. And now that it's reskeined I can stop loving it long enough to take a photo of it.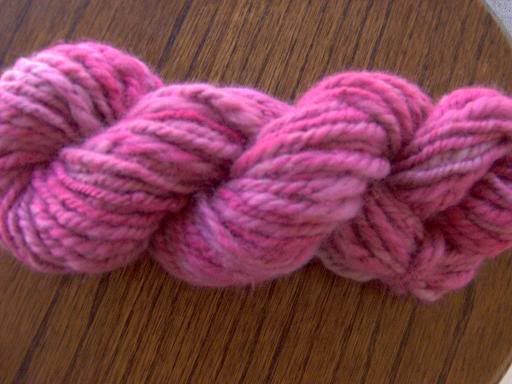 It's really very pink, hmm? But it's plyed and bouncy and beautiful. It's the cheerleader of handspun. Okay, now I'm starting to hate it. I better stop with the cheerleader nonsense.
Anyway, I suppose I shall have to find a young girl who has a smaller head than mine and needs a hat. Or just leave it sitting around in the skein and love it. Or find something else to do with 45 yards of super-bulky yarn? Anyone?