Just when I was starting to panic because I ran out of roving, I got my Pay It Forward roving from Etsy. Look! It's pretty! This was hand-dyed by
Tala
.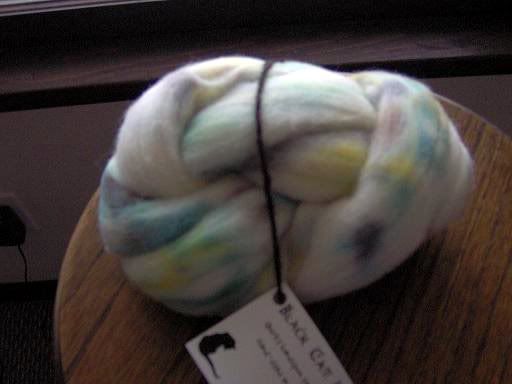 And now that it's arrived, I can say:
Look what I've won!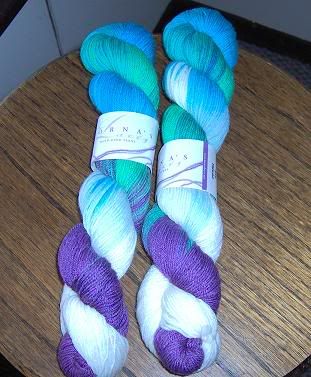 A nice blogger,
Laura at Affiknitty
, was holding a contest to get folks to delurk. To enter to win fabulous yarn, you just had to leave a comment on that entry. She had quite a few prizes, and I won the best.. this beautiful Lorna's Laces Shepherd Sock in colorway Hawaii. Thanks so much, Laura!
Updates on Tubey: It's finished and dry, and I have very mixed feelings towards it. On one hand, It looks gorgeous laying flat. It actually fits better than I thought, but I still wish I had gone with the medium and just knit the length of the back for the large. But had I just gone with the medium, I wouldn't have known to do that and so it still wouldn't fit perfectly. And better a tad too large than too tight in the shoulders, eh? However, the main problem with it is the Andean Silk that I used. This stuff feels wonderful in the ball, each individual strand feels luscious running through my fingers, but it is very itchy when actually wearing it in a full garment, and I'm not usually that sensitive to wool. And it's very fuzzy. My swatch wasn't fuzzy :( It isn't fuzzy as in.. pilling. It just has a lot of individual fibers that stick out and make you look like a sheep. Baa. But I will try to get a photo of it soon. I'm actually contemplating making another in a different yarn, perhaps that Wool of the Andes that I got in, but I'm all Tubeyed out right now. And I think I might want to make
this
first. Or
this.
Or
this.
And eventually I want to make
this (PDF!)
. And
Rogue
. Yeah, I've got a full line up. Not to mention a lot of socks (jaywalkers!) and hats. Yeah.
And hey, I've got a really stupid question. I've been trying to avoid asking it, figuring I would figure it out on my own. Um. *blush* So.. how do you.. er.. adjust the ratio on a Babe wheel? Anyone? *runs away*